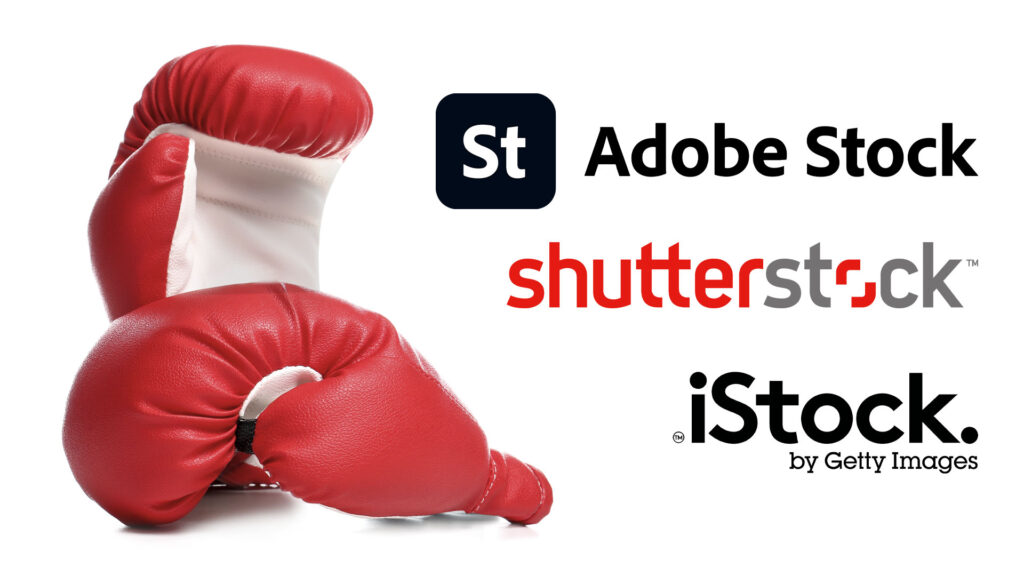 In previous articles, I argued that it is really possible to make money selling stock photography, videos and other creative work, and talked about the kind of content that can actually be sold.
In this one, I'll talk more specifically about the amount of money you can earn per sale on the three main stock websites (Adobe Stock, Shutterstock and iStock/Getty Images), as well as a valuable gift you can receive from Adobe when you reach a very achievable sales threshold.
As you might know, all three agencies offer content through a variety of plans, which means that not all customers pay the same amount for any single picture. They will pay more if they purchase a single image or video than if they have a subscription that includes 10, 50 or 100 downloads per month. That of course means that your commission (also called royalty) will vary as well. I will thus stick to percentages of the sales price that a contributor receive as payment, as well as minimum commission amounts.
Royalty rates and minimum commissions
Let's take a look at the different royalty rates before discussing some of those numbers and putting them in context, based on my own experience.

Royalty rate for photos, vectors and illustrations: 33% (minimum 0.33 US$* for a standard license)
Royalty rate for videos: 35%
Minimum commissions before you can request a payout: 25 US$.
*If the customer has an Adobe Stock Large Subscription plan (allowing download of 350 images/month), the minimum rate is still 0.33 US$ for contributors who have sold less than 1,000 licenses (lifetime), but goes up to 0.38 US$ for contributors who have sold more than 10,000 licenses (lifetime).
More details on Adobe's website: Royalty details for contributors to Adobe Stock

The royalty rate for all content varies from 15 % to 40 % and depends on the number of sold licenses in a calendar year.
The minimum royalty commission for photos, vectors and illustration is 0.10 US$ for a standard license.
| | | | |
| --- | --- | --- | --- |
| Royalty level | photos, vectors & illustrations | videos | Royalty percentage |
| Level 1 | Up to 100 | Up to 10 | 15 % |
| Level 2 | 101 to 250 | Up to 10 | 20 % |
| Level 3 | 251 to 500 | 51 to 250 | 25 % |
| Level 4 | 501 to 2,500 | 251 to 5,000 | 30 % |
| Level 5 | 2,501 to 25,000 | 5,001 to 25,000 | 35 % |
| Level 6 | Over 25,000 | Over 25,000 | 40 % |
Minimum commissions before you can request a payout: 35 US$.
More details on Shutterstock's website: Earnings Schedule | Shutterstock

iStock and Getty Images are part of the same company but offer distinct marketplaces. I put them together because you don't really have a choice where to publish. When you first sign up as a contributor, you must submit a few pictures for review and they decide if that content is suitable for iStock or Getty. You can subsequently contribute content only to iStock if those first few assets haven't been accepted in the Getty collection.
Non-exclusive rates (you can submit your images to other stock agencies)
| | | | |
| --- | --- | --- | --- |
| | photos | illustrations | videos |
| iStock | 15 % | 20 % | 20 % |
| Getty Images | 15 % | 15 % | 20 % |
The minimum royalty commission for photos and illustration is 0.10 US$ for a standard license.
Minimum commissions before you can request a payout: 100 US$.
Both iStock and Getty Images also allow contributors to submit exclusive content (you don't have the right to publish it anywhere else) with flexible royalty rates. I'm assuming that most readers of this article don't want to submit exclusive content, so I won't get into details, but you can see all the rates at the link below.
More details on Getty Images' website: Rate Card, effective January 1, 2021 (gettyimages.com)
In practice: royalty percentage rates vs actual money
While the aforementioned rates are informative, they are only part of the story.
Firstly, it's obvious that Adobe Stock pays a much higher percentage to its contributors, with the exception of the highest royalty level on Shutterstock. Percentages won't tell you how much money you can make per picture, though, unless you also know the price paid by the customer. Each of those agencies has many different plans, so it's hard to compare and impossible to know in advance how much you can earn per sale.
Secondly, the minimum royalty you receive on Adobe Stock is also more than 3 times higher than on Shutterstock and iStock/Getty Images. Video royalties are higher in general, but even images can generate commissions of a few dollars (or a few dozen dollars) per sale, depending on the license type and price paid by the customer. You should assume that you will receive the minimum commission on most of your sales, so it's clearly something to keep in mind, but assets that generate more royalties obviously drive the average commission up. More on this below.
To get a better sense of what all that means in practice, here are some thoughts and numbers from my experience selling stock content over the past years. They might not be an indication of what you will get paid on average, but in any case I do think those real-life numbers are better than just theoretical percentages and minimum commissions from a FAQ section.

Not much to say about Adobe Stock except how simple and straightforward the commission schedule is. No matter how few sales you make, you'll get a very decent part of the price paid by the customer.
My current average commission is 1.04 US$ per sale, substantially higher than the minimum royalty of 0.33 US$, which is what I receive for more than half of my sales.
Every single sale counts, but for the sake of the argument, even without considering the pictures sold with an extended license (26,40 US$ a piece; those feel really good!!), I still average 0.80 US$. Finally, I should add that a small percentage of my commissions have generated only 0.30 US$; probably some temporary discount on customer subscriptions, passed on those slightly lower royalties.

My average on Shutterstock is 0.30 US$ per sale, much higher than the ridiculously low minimum of 0.10 US$ (the commission for 80% of my sales), but still much lower than on Adobe Stock.
To make the same comparison as with Adobe Stock, not considering some outliers (the most that I've made on a single sale was a whopping 7.74 US$, btw), my average falls to 0.23 US$.
Let me emphasize on important point regarding the royalty levels: on January 1st, you get back to Level 1 with a 15 % royalty rate, which means that no matter how quickly you sell pictures, your first 100 sales of every year will only get you a 15 % commission (or minimum commission), then the next 150 pictures will get you 20%, and so on.
Also, while the royalty percentage may go up one level, the actual amount you make may stay the same, since it depends on the price the customer pays. When I first reached the Level 2, for most sales I kept receiving the same 0.10 US$ I used to get when I was at Level 1. The Shutterstock support confirmed that it was normal, because the higher royalty percentage was still under the minimum 0.10 US$ per license. It obviously becomes less and less of an issue as you reach higher royalty levels, but it takes time an many sales to get back to where you were at the end of the previous year.

I haven't contributed an awful lot to iStock (it take much more time to publish than on Adobe Stock and Shutterstock) and have so far too little data to draw proper conclusions, so I will refrain from sharing any numbers.
That said, you can consider the measly minimum commission of 0.10 US$, the low royalty percentage and low prices on iStock.com to get an idea 😉 If you do have (long-term, statistically significant) numbers, though, feel free to share with us in the comments.
There is more than royalties
As briefly mentioned at the beginning of this article, Adobe Stock offers another benefit. Indeed, if you reach certain sales thresholds, it gives you free licenses of different apps under its Bonus Program. The exact conditions may vary from year to year and there is no guarantee that they will keep offering them in the future, but here are those bonuses for 2021:
Contributors with at least 150 downloaded assets during the year receive a free 1-year subscription to their choice among the following options: Creative Cloud Photography (20GB), Illustrator, InDesign, Premiere Pro, or After Effects.
Contributors with at least 5,000 downloaded assets during the year will receive a free 1-year subscription to Creative Cloud All Apps.
I don't know about you, but to me a free subscription is as good as cash since every year I would purchase at the very least the Photography Plan subscription, just as I used to before I started contributing to Adobe Stock.
Considering the very achievable goal of having just 150 sales in a year for the first bonus to kick in, this is clearly a benefit that should not be overlooked, in my opinion.
A clear winner?
It should be clear by now that Adobe Stock has far more potential to make you money (and then save you some, if you get a free subscription) than its direct competition.
Is it even worth submitting content to Shutterstock and iStock/Getty, then? Probably.
On the face of it, Adobe Stock is objectively the agency that pays the most. In practice as well, at least for me, especially since I submit the exact same content to Adobe Stock and Shutterstock (with wildly different acceptance rate, but that's another subject).
Personally, I submit everything to Adobe Stock first. Despite the much lower commissions on Shutterstock, it still makes sense to publish my content there as well, given the very small amount of extra work and regular sales. Occasionally, I also contribute to iStock as well as other lesser known agencies to try them out.
That said, I suspect the content itself might play a role in how successful you can be on any specific stock website, at least when it comes to Getty Images, which is more popular for editorial content (especially with people) than the other agencies. Therefore, if that's the kind of photos/videos you take and, besides iStock, your content is accepted in the Getty collection, then it might become a good option for you, possibly even with exclusive content.
The only way to make sure, though, is to submit to all three agencies over a period of time and see how much you earn with each. Try to take into account as best as you can how much time you need to submit the content, as well, because that's a very important part of the process.