After a recent update of Photoshop CC 2015.1 (around the end of November or early December 2015, I didn't really pay attention), my custom workspace disappeared. Indeed, when opening Photoshop after that update, the interface was set to the default "Essentials" workspace and the one I had customized and used for the last couple of years wasn't even in the list. Fortunately, it was not completely removed from my system and I could restore it.
This is how I could restore my custom workspace in Windows 7:
Open to the following folder:
C:\Users\[your username]\AppData\Roaming\Adobe\Adobe Photoshop CC 2015\Adobe Photoshop CC 2015 Settings
I don't know the location of the workspaces in other operating systems, but it shouldn't be too hard to find out.
Among other things, there are two folders in that location: WorkSpaces, which was empty, and WorkSpaces (modified), which contained all available workspaces and also my custom workspace that didn't show in Photoshop.
I moved my custom workspace file (Michaël.psw) from WorkSpaces (modified) to WorkSpaces and restarted Photoshop. It again appeared in the list and I just had to select it.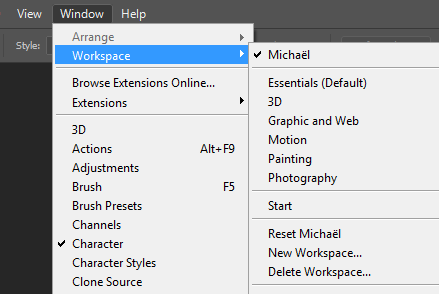 Interestingly enough, Photoshop made a copy of the custom profile in WorkSpaces (modified), so that file is now in both folders.
Hope that helps if you someday encounter that issue.